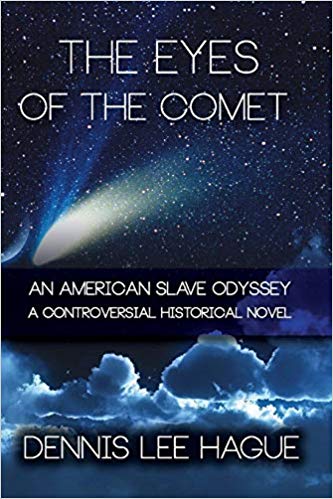 The Eyes of the Comet – An American Slave Odyssey is a "highly charged" historical novel whose time has finally arrived. The story captures the "vibrancy" of the South during the ante-bellum period. An exciting adventure, packed with all the intrigue and passion necessary to fill the reader's imagination, the book represents a carefully researched compilation of material woven into various "themes and connections", which provide us with a fresh examination of the era. Scenes throughout the novel are based on careful research and simply not manufactured, which addresses the old adage that "the truth can be stranger than fiction". Uniqueness abounds since historical novels devoted to this epoch are in such short supply. Couple this with the significant theme, which resonates throughout the story that slavery was in fact an "all-American" institution and not simply confined to the South. In fact, in attempting to seek out the truth behind the institution of slavery, several chapters are exclusively centered in the North. This treatment provides us with a complete examination of the times, which has been largely absent in other writings. In addition, the implementation of a "writer's tool"—the inclusion of a futuristic dream scene, which projects into the Civil War provides for a significant theme – the Civil War was preventable. Unfortunately, during the antebellum period, the elements of greed and power contained in the hands of a few, made it extremely difficult to see just how fractured the lines of communication between the North and the South had become. All of these elements eventually culminated into the Civil War. Understanding the unfettered truth of racism during the ante-bellum period requires what many African-Americans have long felt—the pernicious tentacles of racism run far and wide, which means our entire nation needs to "come full circle" in understanding the depth of this evil and how it can finally be ended.
ABOUT THE AUTHOR
Dennis Lee Hague was born and raised in South Bend, Indiana, the youngest of three boys. The "seeds" for his passion for history were "planted" early in life. As a child residing in an older section of the community, Dennis was "held captive" visiting historical sites near his home. Riding his bicycle, he vividly recalls on numerous occasions visiting a Civil War training site. In addition, he particularly enjoyed admiring a huge oak tree called Council Oak where LaSalle conferred with the Miami Indians. While at these various historical sites, his imagination could run wild seeing Native American Indians, French explorers, and soldiers training for the Civil War. In the evenings, history remained in the forefront as Dennis would read and travel the world fantasying about Sherwood Forest in The The Eyes of the Comet Merry Adventures of Robin Hood, or the Himalaya Mountains in Lost Horizon, just to name a few. Through his imagination, he was fortunate to grasp the significance of reading to "open the doors" to adventure, understanding, and knowledge. Dennis entered Ball State University in Muncie, Indiana and received a bachelor's degree in social science. He then completed a tour of duty in the United States Marine Corps, serving in Viet Nam. After leaving the Marines, he returned to Ball State as a teaching assistant and completed his master's degree in world history. During the next thirty-two years Dennis taught United States history and future studies at Wheeling High School in Wheeling, Illinois near Chicago. His love for history and working with young people never subsided. He would always say that his "work was his passion". Dennis currently lives outside of Lake Geneva, Wisconsin where his fondness for teaching history has now been extended to writing historical novels.
CONTACT:  Dennis Lee Hague at: dennishague@genevaonline.com
Purchase Eyes of the Comet online at:   www.amazon.com
REVIEWS:
October 2, 2015
This is no ordinary book about American slavery before the civil war. This is all about the spirituality induced by suffering and
endurance. This is about the striving of a people to become more than a fragmented mass of disgruntled people owned by other
people. Mr. Hague brings his significant life experience and education into evident play in his use of pinpoint accuracy-laden dialogue and
believable scenes of soaring mythical reality. This is a terrific book by a brand new author.
– Amazon Customer
October 6, 2017
This is a wonderful novel that is not only period accurate but pays close attention to the linguistic patterns of the era. It's upbeat while remaining mired with foundations firmly driven into the intensity of the history of the time. The current confederate monument situation and controversy indicates that novels like this one need more study and attention if we are to comprehend how the Civil War ended but did not really go away….
November 4, 2015
I loved this book. The author stayed true to history. Many slaves had visions and religious experiences to such a level some passed out and had seizures in their Sunday services. What else did they have to live for other than their deep-rooted devotion to God and hope that one day they would all be free. I knew slave owners and plantation managers were cruel but to read of these punishments hurt. Yes, I admit it …I cried when Reggie and Anastasia were reunited!
– Amazon Customer
June 7, 2016
I found the book to be a very interesting historical read. I also watched the resent remake of Roots. In the new Roots series the directors (4 directors) did extensive research. Mr. Hague on his own had to have done extensive research to also characterize how slaves lived and were treated. Also he tells how free slaves were treated in the northern states
April 2, 2017
Spellbound. One of the most intriguing books today. Hard to put down and completely wonderful. It would make a brilliant movie!
October 7, 2017
Really enjoyed this book. It was captivating and offered an intriguing perspective of the time period
Product details
Paperback: 572 pages
Publisher: Rawhide Book Publishing (September 18, 2015)
Language: English
ISBN-paperback: 978-0996537100 / $19.95
ISBN-hardcover: 978-0996537117 / $27.95