WHY DA SKY BLU' YO
ISBN #: 978-0-692-45139-7 / $14.95 / 48 pages
An Urban Diaspora Folktale A boy asks his father the familiar question, "Why Da Sky Blu'?" The father, speaks in an old folk dialect inflected by his urban experience, offers an elaborate impromptu story that seemingly never gets to the point. As the frustrated child reminds his father of the original question; the father unveils… much to the child's delight; the most fascinating assumptions that lead to the most peculiar, interesting and unanticipated resolution. In the process; the father and son share quality time and come to know and love each other more deeply.
Yaambo loves to climb into Baba's mind of never ending creative treasures. As Baba always enjoys an impromptu challenge. But, will Yaambo have the patience to endure Baba's spoken words of rhyme and reason as this story unfolds? Indeed there maybe a scientific explanation for why the sky is blue. We leave it up to you to determine the likelihood of our story, for the sky may or may not be Blue at all. Yaambo and I hope you enjoy our story in the spirit in which it is offered. Peace.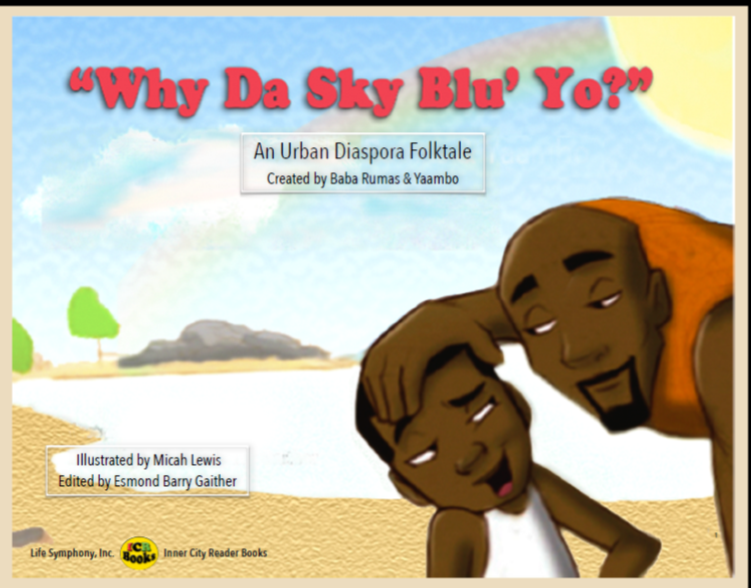 ABOUT THE AUTHOR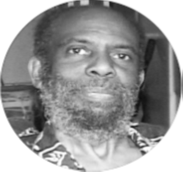 Rumas Barrett, aka Baba Rumas, born in New York, came to Boston to create the Life Symphony Orchestra, that premiered live in concert at the Berklee Performance Center, Boston, MA, Nov. 5, 1982. He is the founder and program developer for Life Symphony Inc.; a non profit, 501c3 tax exempt , Youth Enrichment Performing Arts & Education Organization since 1985, Baba Rumas, has travelled abroad to Port au Prince, Haiti; Cyutlan, Mexico; Senegal & Gambia in West Africa. He has building upon his urban agriculture training and experience through affiliations with; DSNI-Food Project and a graduate of the Urban Farming Institute Boston (UFIB), and culinary graduate of New England Center for Art and Technology (NECAT). Baba Rumas enjoys playing African drums & percussions, telling urbanized folktales and loves growing sustainable organic crops to make his nutritious eco-friendly meals. He openly share his knowledge with those in pursuit of learning to restore health and wellness in all people.

Baba Rumas is available for lecture demonstrations and interactive performances, as a musician and seasoned storyteller for children and intergenerational groups at schools, colleges, community centers, libraries museums and cultural events for all occasions.
ABOUT THE ARTIST

Micah Lewis, Born in Boston MA, Micah Lewis is an artist that grew up watching Disney films and the best cartoons of his era with the influences of Bruce Smith, Glen Keane and Bruce Tim. Micah later moved to Atlanta, GA where he received his BA in Media Arts and Animation at the Art Institute. In Georgia, he worked at various studios as a character designer, animator and illustrator for TV shows and online games. Working at these different studios he absorbed the acute attention to form his own visual world of characters and stories and is now living in Los Angeles, California furthering his skills in the field of media arts and working on his own projects.
INSPIRATION

Bakari J. Barrett aka Yaambo, born and raised in the Roxbury/Dorchester, MA area. He attended Boston Latin school, Another Course to College High School and participated in the Year Up Program after graduating from Roxbury Community College. Bakari, loves to reason and communicate. Today, he is an explosive hip hop artist and master of spoken word. www.BakariJB.com harvests audio & video examples of his passion on display. As a minor child he was always asking questions. His inquisitive nature inspired his Dad to write when he asked the age old question. "Why is the sky blue?"
FOR SPEAKING ENGAGEMENTS:
eMail Contact: lifesymphonyinc@aol.com
www.Lifesymphonyinc.com
Tele: (857) 222-5526